Two great new reviews [Hint: If you want to help out Rob's discoverability and have read any of his books, the links are here, all in one place, to rate and review.] and a sneak peak of the next Deserted Lands novel…
Virginia Herrick for Chanticleer Reviews:
All Is Silence is [a] suspenseful, sensitive debut novel… juxtaposes the tragic (a young girl singing at a loved one's deathbed) with the darkly comic (plenty of unused dishes–throw the dirty ones in the backyard!)… grabs our heartstrings… keeps us snorting with laughter at the probability this is what teens would do thrust into [an] Apocalyptic world. Devastated & lonely, with a growing ragtag band of misfits in tow [Lizzie goes] cross-country to find a stranger from [her] past who might be the key to her future.
Bottom line: Slater draws us into a familiar-yet-drastically-changed world and makes us care about his cranky, vulnerable, sometime-exasperating, always-engaging characters. His terrifyingly real dystopia reminds us that, really, the only choice for Lizzie, Zach, Nev, and all the rest of us, is to keep loving one another and find some way forward, even when our future is turned upside-down. Read the full review here.
Post-apocalyptic worlds ravaged by disease have become commonplace in fiction these days, but vivid characters and a dose of realism can still make a dystopian novel unique. A kind of plague has cleansed the world of humans… I liked Lizzie, a believable narrator and a believable teenager with her own recognizable voice. I adored her when she starts rescuing pets abandoned in locked houses after their owners died. What a fantastic way to contrast this story against All the Other Post-Apocalyptic Novels. So many similar storylines hinge on an every-man-for-himself attitude. Lizzie (and her friends) not only consider but actively look out for others and clearly value life of all forms.
This is a fairly gritty book, with lots of violence and swearing. For the most part, I mean that as observation more than either praise or criticism. However, I did occasionally find some violence more momentum-serving than something that feels organic.
There's also a lot of romantic tension, sometimes a bit too much for my taste… most of the characters are teenagers and many teenagers are very crush-fixated. (And, yes, that's a polite euphemism for sex-fixated.) Read the full review here.
SPOILER/TEASER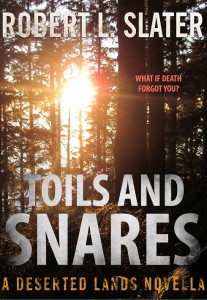 If you've already read All Is Silence and want more… There is another Deserted Lands story in Outward Bound, one that I am sending out to magazines/ezines and a novella–Toils and Snares–coming in the fall. All three stand alone. But if you want more Lizzie… follow this link and you can read the current draft of the first 500 words of Straight Into Darkness, which starts a month after All Is Silence ends.
Also, sign up for the newsletter and you can become a beta reader for these stories before they come out. It also will get you links to other short stories. The newsletter comes out once or twice a month.