I realize that I have already written a love letter of a blog to Village Books, but in this time of Thanksgiving, I wanted to thank them again and tell you what they have done for me lately and what I hope to do for them.
They have partnered with me to sell ebook download cards, sort of cutting edge and so far not a lot of sales. This is what the signed download cards look like. Click for a larger picture.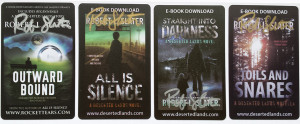 I can even sign them with a metallic pen. They're like collectable cards. The cover art is cool enough to display even at that small size.  I'm hopeful this will be another tool to put control of an author's intellectual property and sales firmly in their own hands, as well as offering a way for brick and mortar bookstores to sell e-books to their customers who would like them.
They have also agreed to send folks MY SIGNED BOOKS, SHIPPED TO YOU FOR ONLY $0.99! They go slower than standard shipping, so if you want them by the holidays, order them now. If you want a special personalized inscription, include that in the notes when you check out. It's the only place on the planet besides my hands that you can get a signed hard-cover of ALL IS SILENCE, part of a limited print run of 50!
Sam from Village Books invited me to come hang out, talk to readers and sell books during Small Business Saturday and Indies First! So last night, I got to meet a bunch of Village Book patrons, talk about apocalyptic politics and other fascinating subjects, as well as give away some of the above mentioned e-book cards. I only signed and sold one of my own books, but it was lovely to be home. I even had a customer come up to me to tell me they'd read and enjoyed the first book!