Path to Indie Publication Series is a companion series to Marshall Ryan Maresca's Path to Publication. I have been avidly reading Marshall's posts since I discovered his blog. Read Path to Indie Publication: Part I. Part II. Part III. Part IV. Part V. Part VI. Part VII. Part VIII. Part IX.
Print Release, Awards and Readings *
February 15th was my 47th birthday and that week Pintado's cover for All Is Silence was awarded a Gold Star by Joel Friedlander's Book Designer Cover Contest.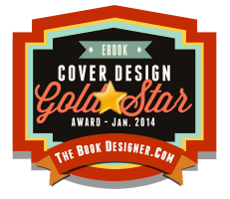 The shipment of 500 books came in and I was ushered into the bowels of the Village Books store, where I discovered that 28 boxes of books will fit in a RAV4. The first of many surreal moments was sitting in the VB basement signing a box full of books. Paul Hanson, Store Manager, suggested that VB could host my Release Party. We set a date for March 14th which would give us time to advertise.
That weekend I wrote and published the first post in this series as I tried to create content for my blog instead of just announcing my writing progress. I spent the weekend away on Lummi Island in a friend's cabin, updating my blog, creating the Rocket Tears Press website and a website for the cabin we were renting. [You can rent it, too. Special discount for Educators.]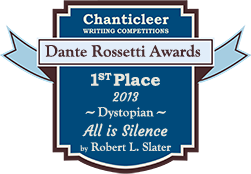 The following week the 2013 Dante Rossetti Young Adult Fiction Awards were announced and All Is Silence won 1st Place in the Dystopian category. Not only did it feel great to have the recognition, but part of the award is a professional review and promotion by the Chanticleer Reviews folks.
The next few weeks were a blur. Chanticleer Reviews invited me to do a reading at their booth at the Association of Writers and Publishers in Seattle and asked for books to sell. The reading was standing room only, since it was in the middle of an aisle, (As you can see in this photo montage by fellow author and editing peer, Jesikah Sundin) but it gave me a chance to try out my material. My editor and writing buddy, Amanda J. Hagarty helped out at the booth and got folks excited about the book. After the reading she came running. Hugh Howey had been sighted at the Amazon Booth. Jesikah and I rushed after her with books in hand.
We got pictures and Hugh asked if I was the writer of the book in my hand. He took it and flipped through it, seeming impressed. "Did you do the pagination yourself?" I nodded,  way too FanBoy at the moment to think of much to say other than thank him for all he's done for Indie Authors with the Author's Earnings site. I didn't even offer him a copy of my book. Oops.
While researching this post I found a draft of a post [now published] I had started March 3rd titled: Pubslush & Kobo Winner. I had entered a random drawing this time and won! So, this summer I will be running a Pubslush crowdsourcing fundraiser so I can pay my cover artist and editors more on the second novel. Mark from Kobo had asked me to write a post about my relationship with Village Books for the Kobo Writing Life Blog. I had written the first draft over my Birthday weekend, submitted it and then forgot about it. It appeared somewhere in there.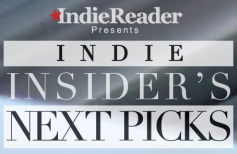 All of these interactions with Kobo lead to the next big win. Thanks to Mark Lefebvre [writer name: Mark Leslie] of Kobo who nominated ALL IS SILENCE, it was listed as #1 on the inaugural IndieReader Next Picks list for April. In this maelstrom of excitement, I also forgot to post this one!

Next: Part IX – Party On. Where our author protagonist does a release party and some readings.
* Adapted and expanded from the Foreword to Outward Bound: Science Fiction & Poetry, a collection of some of my published and unpublished works. Top