Here's the latest eleven things for February.
1. On March 12th, Windward Boosters is teaming up with Barnes and Noble in Bellingham for a BookFair to benefit Windward High School programs. At 5 pm there will be five local YA writers: Royce Buckingham, Nick James, Jesikah Sundin, Tara Ellis and myself. We will each read a bit and then take questions and sign books!
2. GRAYS HARBOR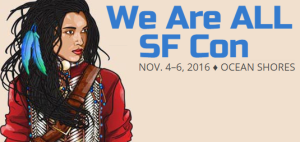 RESIDENTS FREE FRIDAY at the brand new Science Fiction and Fantasy Convention in Ocean Shores this November. You've got 8 days left to register! If you are a resident of Grays Harbor County, you may attend for FREE on Friday! You MUST register by Feb. 29, 2016 to receive this membership rate. Click down where it says Sponsoring Membership and choose: Free for Grays Harbor Residents.
3. A long time ago when I was writing short stories and submitting them regularly, I created  a phrase that I have since adapted for many other uses. F.I. Point. After someone said I should trade mark it, I decided to see how long ago I had said it on the internet! Three years ago. And I here I am mentioning it again. So, what is the F.I. Point? Well, it's the polite way of saying F— I-! It's the point where the story is as good as you can get it for the moment. Instead of burning it, the writer should then send it out offering it for sale [As per the Heinlein rules of writing.]
4. Finding myself in Overdrive. Overdrive is a way to borrow an e-book from a public library. The Sno-Isle has ALL IS SILENCE in their overdrive loan system. So, if you use Overdrive, please request it for your library! Thanks.
5. CD Baby, the music equivalent of Book Baby, has set me up with my own youtube channel for my music. #robslater. You can hear my first CD of folk-rock, singer-songwriter tunes, Some of the Parts. You can also hear it on Spotify or purchase it at CDBaby.com or iTunes.
6. A few posts from my personal blog over on www.robslater.com:
7. TWOSIES SALE: One more week of special prices and freebies on my fiction. New all-time highs on Amazon in February. Not blowing the old highs out of the water yet, but soon perhaps. Also doing great internationally on Kobo!
8. A week in a dry-docked boat this summer – This summer I'm going to have a week long writing retreat in a dry-docked boat in Port Townsend while Elena and Miranda do Fiddle Tunes at Centrum!
9. Waiting for my Hemingwrite… Except it's now called a Freewrite. See advanced pics below. I'm thinking of doing a blog post or two on the  history of the 'portable' typing devices I've used throughout my writing career. I may wait to write it on my Freewrite.
10. 1 day in a row of 500+ words of fiction… What did I write? My lips are zipped… I'll just say that you may never read it under my name.
11. I'll be presenting about "Reaching Reluctant Writers with NaNoWriMo" at the Washington Association of Learning Alternatives Convention in Grand Mound, March 3rd and 4th.
See you in March…