The Spring 2017 Young Adult Scavenger Hunt is over. Participation was amazing! Thousands of folks meeting 100 YA authors and getting bonus materials.
The GOLD TEAM winner of 20 Young Adult novels is:
Miranda G. in Rexburg ID.
She will receive a signed 1st edition of ALL IS SILENCE – Book I in the Deserted Lands series along with 19 other print YA novels!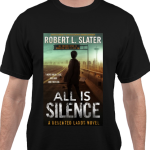 My winners for my own YASH giveaway are:
Susan in Maryland – an ALL IS SILENCE t-shirt.
Anna in California – an ALL IS SILENCE t-shirt.
Lenka in Slovakia – A set of four signed ebook download cards.
Congrats to all. If you did not win, please stay on my mailing list for more information on giveaways, sales and opportunities to earn free ebooks, t-shirts and read early drafts as a Beta reader! If you have not signed up to be part of the Desert Club, you can do that here!