WIKIPEDIA: This is a weird request for me. As I ready myself to release my second novel, I feel like I should have wikipedia entry, so people can find me and I believe it also gives an air of respectability! Since the first novel has one some awards, has decent sales, and the newer works are also getting good press, I think it is time. I know I could write it myself, but that feels even more weird than asking for someone else to do it! If you are a wikipedia editor, know one or would like to become one, I'd like to invite you to practice on me! 😉 Thanks.
WATTPAD: Today, ALL IS SILENCE is #21, STRAIGHT INTO DARKNESS is #17, and TOILS AND SNARES is #72! I miss being #1, but happy with the staying power… Come read it for free if you can't afford to buy it or you live in the Philippines! 😉 Seriously, 17% of my 108,000+ Wattpad readers are from the Philippines!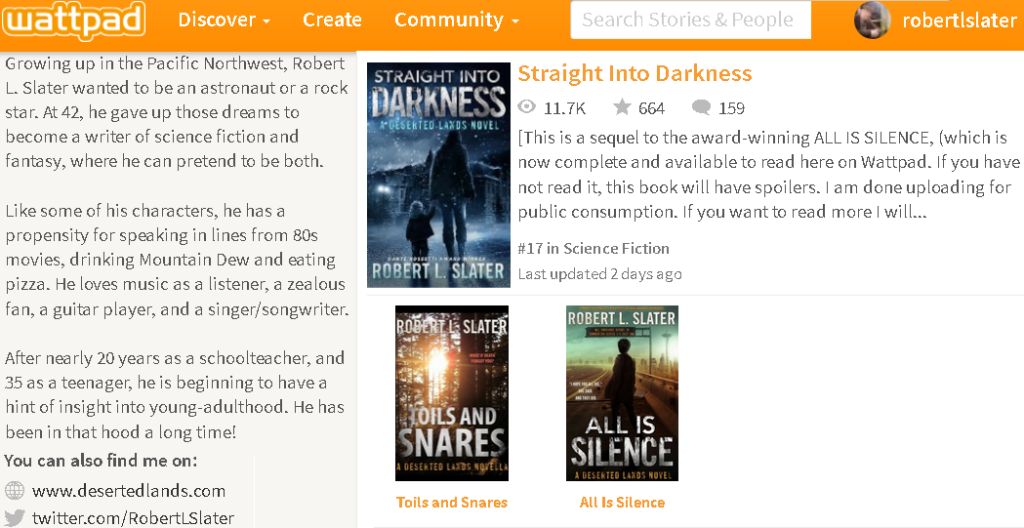 There have been a few burps and hiccoughs as they adjust their algorithms. At times ALL IS SILENCE has disappeared from the charts while having some of the best numbers ever. I think it's impacted the number of new reads and followers, but since I've gotten 2300+ followers and they are helping me out, I can't complain much!
I put a request for reviews on Wattpad and within a few days I had five new reviews! This alone is probably worth the price of the time I've spent. On the bittersweet side, I am getting so many questions and comments [40-60 a day] that I can't even begin to think about answering them all. I used to answer each one, but now, if I did, I would get no fiction written and that would kind of make answering the fan questions sort of moot!
WRITER WORRIES: This week I put STRAIGHT INTO DARKNESS up on Amazon as a presale. [Please don't buy it yet! If you want to know why, read this post: PLEASE DON"T BUY MY NOVEL.] That means I have 76 days to finish it. It is by far more challenging than the first novel was: hree major plot-lines/point of view characters and no road trips! I've got the Second Novel Omnipresent Blues as Mindy McGinnis calls them.
In addition to writing the novel, I need to continue to maintain my web presence: this blog, my personal blog, twitter, facebook, Google+ and more. I'm hoping to have a bit more time next year to focus on the writing, but we'll see if my day job agrees to help!
Thanks for reading, please check out the newest page on the website. R U There?, a page to send Lizzie messages and get responses… Thanks Amanda J. Hagarty, excellent editor, writer and media maven!