Why I Wattpad is a continuing series of blogposts about my first year on Wattpad. Here are Part I, Part III, and Part IV
As I approach half a million reads on Wattpad, I am writing this blog in order to make some sense of its effect on my recent and future sales. I want to begin by thanking my friend, fellow writer and editor, Amanda June Hagarty. She convinced me to give Wattpad a try and gave me some very sage advice.
Upload smaller pieces two or three pages at a time.
Upload two or three times a week.
Communicate with your fans.
Has it worked? Well, several Wattpad readers have informed me that they bought copies of my book so they could finish it without waiting for the weekly serialization. But, despite the fact that Wattpad has led to only a few sales, my purpose with giving away ALL IS SILENCE serially was to build a fan-base. How well that has worked will take many more months to know. You'll have to stay tuned.
I have been uploading three times a week, about a 1,000 words at a time totalling a chapter a week since August 10, 2014. I was building a readership and climbing the science fiction chart with 130K reads when Wattpad picked ALL IS SILENCE as a Featured story, January 12th. (They had contacted me about featuring it a few months earlier.). After getting featured it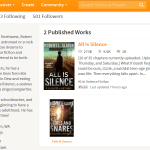 took me 1 week to get to #1 on Science Fiction. I've hovered between #1 and #5 ever since. In the next 3 weeks I went from 138 followers to over 500. By early March, I had added another 500+ followers. It took four and a half months to get my first 100,000 reads and less than a month to get my second 100,000 and only 15 days to get my third.
Almost 70,000 people have read the first section of the first chapter of ALL IS SILENCE. 24% of them continued on to the next section. 80% of those read the next section and after that there is only an average 2-5% drop in total reads over each section. About 1000 people read each new section within 48 hours of the time I upload it. Of course, my book with its 17 year-old female protagonist, and Apocalyptic Fiction genre, hits Wattpad's biggest reader demographic. 60% of my readers are age 13-25, 50% are female, 18% undisclosed gender, 32% male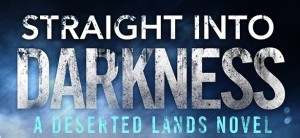 I will continue uploading until ALL IS SILENCE is complete online. Then I will post the first four or five chapters of the sequel, STRAIGHT INTO DARKNESS. At that point in early May, I expect to have 1500-2500 followers. In order to continue reading for free they will need join my newsletter mailing list and agree to do a read and review of the Advanced Reader e-Copy. Or they will need to wait until STRAIGHT INTO DARKNESS is released and buy it then. I plan on giving a special price to Wattpad readers who wish to buy a signed copy of either novel in print. So, by the end of the summer I may be able to tell whether the sales data supports all the energy I've put in.
But sales is truly secondary here. I will tell you that the positive vibes from readers who are currently reading your work is invigorating. I get lots of comments and votes, too many now to respond to completely. I'm still trying to read all of them, but some days I can't even do that. I had nearly 100 reads waiting for me after one busy work day. One kid who told me reading my book helped him get through his super stressful finals… Yeah. Wattpad is cool. And I do hope to come out of this with people who will read my books in the future, tell their friends and write reviews. Maybe even find most of my 1000 true fans!
Why I Wattpad – Part III