Hey folks,

If you have ever been to Bellingham, Washington and never set foot in Village Books, you have missed out. Village Books, once housed in a single older building has expanded along with Paper Dreams into a multi-layered party cake of printed and print-related materials.
They are my favorite bookstore. The location on the Village Green, where many concerts and movies are offered free to the public, is lovely. From the top floor there is a view of Bellingham Bay and the San Juan Islands. Though, in the evening there are times that the sun takes full advantage of its view of shoppers requiring the addition of sunscreen and sunglasses to shop or write with the writer's groups they host.
Also sharing this view is Book Fare, purveyors of delicious snacks, meals and beverages. If you sign up for the Village Books frequent buyer club, you get a card every year with a 25% off discount on one book, PLUS a free drink at both Book Fare and the world famous Collophon Cafe downstairs, home of the renowned African Peanut Soup.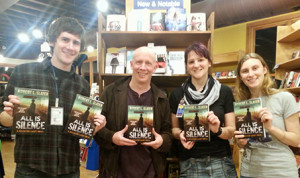 The staff, from Manager Paul Hanson to the most recent hires, are amazing, friendly and helpful. And, oh so, passionate about their job, the books! They'll remember your name and probably even what kind of books you like, or be happy to try to track down that book. You know, the one with the blue cover and the lampost by that guy who wrote that other book set in Seattle.
As a reader and a teacher, Village Books has many high-quality lightly-used books specially priced. I'm a sucker for the little round colored stickers on the spine that tell me somethings at a reduced price. The Village Books staff have combed their collections and catalogs to get my classroom sets at a discount and individual books at the best possible prices, new or used.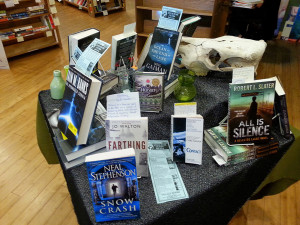 As an author, Village Books has been amazing in supporting my books. Since I used their publishing services for my small press publishing company, I get special rates on my books that they sell on consignment. Brendan Clark, who helped me maneuver the maze that is Ingram Spark publishing, earns his  pay and much respect as the last set of eyes and advice before we go to press. He also has great local connections if you need a quick print run because your computer died two weeks before your book release party!
We also partnered to print a limited edition hardcover of my first novel, All Is Silence, the first hardcover Village Books brought through their print partnership.
They've been helping me to market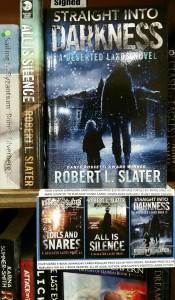 my ebook download cards, so that people who like to read ebooks can buy them from a local store and benefit the economy and the local writer more than an online purchase.
In addition, they will ship my signed books anywhere in the continental U.S. for only $0.99! How cool is that?
Village Books also sponsors stellar events such as The Chuckanut Writer's Conference, The Bellingham Steampunk Festival, The Chuckanut Radio Hour and many, many more.
So, I'm not going to count the ways. There is too much, lemme sum up.
Village Books in Bellingham is the place to go. My only complaint? Fairhaven is such an amazing, revitalized neighborhood, largely due
to the actions of Village Books owners Chuck and Dee Robinson and a few others, that finding parking can often be a challenge! So, if you're heading there for an author reading, a book or writer's group or a film on the gree, go early. Have a donut at Rocket Donuts or dinner at one of the excellent restaurants nearby!
Oh, and lest I forget, they're also opening up a second location in Lynden.
See you at Village Books!