VIkingcon 2014 was awesome. 17 newsletter signups, panel with Greg Bear, Jason Andrew, Susan Matthews, met Alma Alexander, Jennifer Brozek, and John Patrick Lowrie. Hung out with daughters & grand. Sold 9 novels and donated one for the WWU Associated Students Raffle. Had some cool conversations about books, apocalyptic fiction and music. I love small cons! Looking forward to next year.
I have now sold 200 of the first 500 hundred books I ordered and had delivered to my house! Also, have sold an additional 200 in ebook, through distant bookstores, and to libraries, none of which touched my hands! Would love to sell out of the first printing before the end of the year.
Hardcover faced additional delays. The proof copy is on the way, but I already know I need to resubmit the interior text. I didn't click the right boxes in Scrivener. So, all the extra font work I did for the print version disappeared and that first proof copy will essentially look like the mobi file on a Kindle. Grr… Also, somehow, added an 's' to my dad's first name in the credits!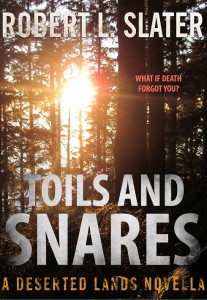 Sneak preview of a possible cover for Toils and Snares, a Deserted Lands novella, I plan to release in the fall. It's set a month or so before All Is Silence in Portland, OR and the Olympic Peninsula in Washington. The story will be a prologue of sorts for a later book set 15 or so years in the series future.
This is the first cover art I've ever created that I begins to approach saleability. Mostly due to the work of Pintado. Now, back to writing.
Photo by Ian R. Q. Slater
Cover design by Robert L. Slater