UPDATES: Almost mid-November. Writing-wise, I've got some good news and some bad news. I'll start with the Bad, which isn't really very bad.
Bad news?
NaNoWriMo [National Novel Writing Month] counts are down. Not likely to hit 50,000 words in November.
All Is Silence was requested for consideration by the Phillip K. Dick award administrator, Gordon Van Gelder. Alas, since I released a hardcover version, it does not qualify. Sigh. Nice to be asked.
No review from Publishers Weekly. Bummer.
Pubslush campaign has been pledged $252! [Need $500+ to fund it.]
Good News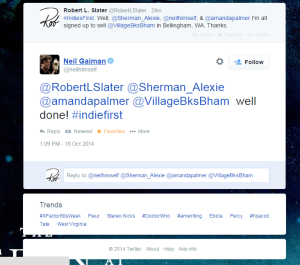 See Bad News #2!
Broke 50,000 reads of All Is Silence on WattPad.
Got a Tweet response from Neil Gaiman himself.
Invited to be a panelist at RadCon 6C over my birthday weekend in 2015.
Invited to do Indies First local bookstore promotion with Village Books on November 29th.
Finished rough draft of the parallelequel novella, Toils and Snares.  [Click to read a scene or two.]
Finishing rough draft of All Is Silence sequel, Straight Into Darkness. [Click to read a sample or two.]
Pubslush campaign has been pledged $252! [We've got 18 days left.]
REQUESTS: Please, help. If you can share or spare a pledge for the Pubslush campaign, please do. Or just become a fan.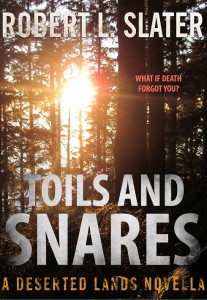 BETA READERS: Toils and Snares, the parallelequel novella to All Is Silence is ready for Beta Readers as soon as I finish formatting and setting up ebook formats. If you would like to read something set in the Deserted Lands universe and not wait until April… drop me a line. Anyone who responds will get the opportunity to read it early and help my find those dreaded typos and other issues.
Thanks for your support. Gonna go write on before exhaustion hits.