On the writing side: Finished rewrites on Chapter 5-10 yesterday. Feels like the rwrite is going well. I found myself getting lost in the story!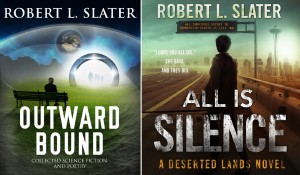 Cory Skerry, fellow Bellingham Writers Group member, has asked to use my covers as good examples in a workshop on what self-publishers should do for cover art.
On the publishing side: Purchased www.robertlslaterwriter.com, www.rockettears.com and www.robertlslater.info. All now point to www.desertedlands.com. Joining the Independent Book Publishers Association. Also have an appt. early next week with Alice Acheson, my Marketing Guru.
Cory Skerry is i
Rocket Tears Press
P.O. Box 1830
Ferndale, WA 98248-1830