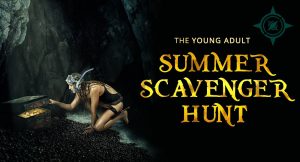 Welcome to The Deserted Lands, an apocaloptimistic universe not so far removed from our own.
This scavenger hunt has an awesome spin. Find the secret words at each of the author's blogs/sites and write them down to read the story! When you've got the words for the story, go to the main page for your chance at the $500 Amazon Gift Card. I've got a giveaway listed at the bottom of this post. Click on either Scavenger Hunt graphic for a link to the rules and the list of sites.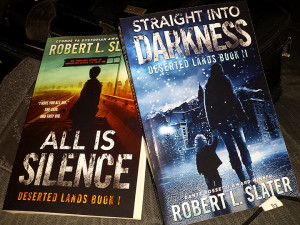 Now let me tell you a little about me and my writing while you look for the secret word. I'm a school teacher, musician and author from the Wet Coast of Washington state.
My main series right now is post-apocalyptic science fiction trilogy that tells the story of Lizzie, a suicidal teenage girl, who barely navigates her own life. Then everything falls apart. In an apocalyptic land nearly deserted by disease, she lacks reasons to live until a shocking turn of events reveals a phone number. Her call pulls her dangerously cross-country to meet a stranger she thought was dead.
In a world where there is plenty of food, plenty of gas, plenty of space… fear, anger and a lust for power still control the patterns of human life. As the apocalypse heads into dystopian territory, Lizzie must decide who are her friends, her family and who might be a danger to them or to HER.
[Yes, that was the secret word]
Sample ALL IS SILENCE on all major ebook stores. Kobo | iBooks | B&N Nook  | Amazon Kindle | Smashwords | GooglePlay
Join my Rocket Tears Press Giveway for a chance at T-shirts or Download cards. Three winners will be chosen to receive prizes.
Winners will receive an ALL IS SILENCE t-shirt OR a set of four Signed eBook Download Cards. [Three novels: TOILS AND SNARES, ALL IS SILENCE, STRAIGHT INTO DARKNESS and the OUTWARD BOUND  short story collection. (Because of shipping costs, International winners will receive a set of the four Download Cards. U.S. winners will have the choice of a T-shirt or download cards.)
The giveaway application does not seem to be working on all browsers. It seems reliable on Chrome, but if the giveaway does not appear below, please type an e-mail into the Orange free fiction sign-up box in the upper right corner of this page and I will manually add you to the giveaway. AND you'll get an instant FREE ebook.
For rules, updates or trouble-shooting, make sure to check out this main post which will stay updated.