It seems like a pretty cool 49th birthday present to be writing a blog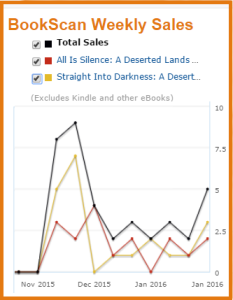 post about two years as a published author. I've completed my Sophomore Slump if I had one, and am moving on to whatever comes next.  The graphic inserted to the left shows the last 8 weeks of sales on Neilsen BookScan, the Book rating system from the folks who bring you the TV ratings. As you can see at the beginning of November I had two weeks with no print books sold nationally. Since then I have sold two or more books each week in real-live, honest-to-goodness, brick and mortar (or sheetrock and metal as the case may be) bookstores across the country.
The next graphic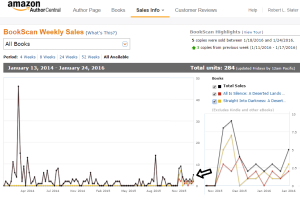 shows the last two years from the week I had my first sales up until late January. As you can see there have been ups and downs, flatlines and spikes, but since Straight Into Darkness started charting the sales are consistent. This actually looks a little less crazy than Amazon ebook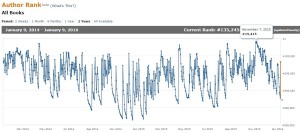 sales over the same period. If you think the ebook sales look more like an EKG reading for someone with a bad heart, you're right. I'm trying learn to ignore them and not look at them everyday. No luck so far.
My income? Certainly not enough to quit my day job, though if I only count the income and not the expenses of publishing, writing, and marketing, I could take a pay cut and work less hours. Am I okay with that? Certainly! I am nearing a point where 10,000 folks will have read Book I. Most of them read it for FREE on Wattpad, but still, that's a lot of people to tell their friends. And a lot of teenagers who may grow up and decide they want to pay for books so they don't have to read them in a browser with advertisements.
I've always had a long view with the idea of a writing career. I received 140 rejections before selling my first short story for $10! At that time, that was the cost of about 3 submissions in mailing and printing costs. I currently have 600+ rejections, but have been selling. I'm fine with the slow burn or the tiny snowball vision of a career. At this point, I am not selling massive amounts of books, but the ones I am selling are being rated and reviewed well. Sales are steady and when I run a promo, like this month's Twosies Sale, there is a ripple effect through all of the books.
I have also made many, many new friends, fans and folks who may someday fit into one of those categories. So, I'll keep on writing, keep on promoting, keep on sharing myself on the internet, keep on sending stories out for potential rejection. Thanks, folks, for helping me along!