The last month has been a hard one in terms of writing. Though I wrote 55,000 words this summer, probably more than I have ever written, it was not the 75,000 and the finished rough drafts of a novel and a novella. Instead, I have unfinished drafts of two novels and a novella. I also hit some walls in terms of writing everyday, one of the biggest was my day job as a teacher coming back into 45+ hours a week focus.
My sales also fell, despite being involved in two sales for e-books. My book is no longer new and no longer getting lots of attention. Now is the time to be gearing up for the next book, but the state of the next book is not where I want it to be which is also somewhat crippling.
I've had a steady increase of readers and reviews on GoodReads, followers and readers on WattPad and followers on Facebook. Twitter has stabilized at about 1000 followers and my e-mail list at about 130. I feel like I am in a good place, but the doubts of the doldrums decimate my desires. [Can you tell I'm teaching poetry and literary devices?]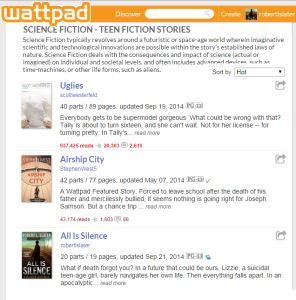 On the other hand, the good news is really good. On WattPad the number of people who read the first section and go has been trending steadily upward from approximately 3% to 4% and now over 5.64%. It's broken the top hundred in Science Fiction and hit #3 on the SF/Teen Fiction list! At this rate I'll hit 100,000 reads in April as I release book two, Straight Into Darkness.
This weekend I got to hang out with readers and writers at The Chanticleer Conference, Awards Banquet and Books By the Bay festival. I sold more books than in the previous month and got to network with some awesome authors.
I'll be starting my PubSlush campaign October 17th to crowd-fund higher payments for cover art and editing on book two so that it is an even stronger book than All Is Silence was. Glad you're along for the ride!
Oh, check out my Banned Books reading from Robert A. Heinlein's Stranger in a Strange Land. "I grok humans, Jill."