Path to Indie Publication Series is a companion series to Marshall Ryan Maresca's Path to Publication. I have been avidly reading Marshall's posts since I discovered his blog. Read Path to Indie Publication: Part I. Part II. Part III. Part IV. Part V. Part VI. Part VII. Part VIII. 
Party On.*
One of the ideas I had picked up from Mary Robinett Kowal's Debut Author lessons, an excellent and concise primer for how to act pro as a newbie author, was that I needed professional author photos. I had been crossing paths for several years with Damian Vines, an acquaintance from my Grays Harbor wannabe rocker years. We played some guitar, exchanged Facebook posts and I marveled at his growing body of fine art photography. When it came time, we agreed that the grounds of the old Northern State mental hospital grounds in Sedro Woolley would be perfect for some apocalyptic shots. The day was cold, but we got some great photos. 
Then during a chance conversation at Village Books with Paul Hansen, store manager, he suggested I have the Release Party at Village Books. I had been thinking of other venues around town, churches, former churches, even Windward High School where I teach. But what better place to do a release party? I wanted to do it almost immediately, this was the second week of February and I wanted to do it on the 20th of February, but Christina at VB events convinced me to put it out a month so we could get the word out.
Elena, my partner, and Amanda, my editor, gave me advice to improve on the reading I had done at AWP in Seattle. I cut down the one section I had read, leaving it on a cliffhanger and chose another short one that I also hoped would leave the listeners wanting more. I put up a Facebook event, a Google+ event, posted it on my blog, my newsletter, Goodreads and my Amazon author page. I invited 500 of my various followers who might be within driving distance. When the day came, 50 people had RSVP'd they would be there. I created a powerpoint to run before the event started, I rehearsed to songs I'd written that I thought seemed to fit thematically. I ordered pizza and Mountain Dew, food for the Apocalypse, as well as cookies, tea and coffee for those wanting a kinder, gentler end of the world.
I printed up cards for a free giveaway of my short fiction and poetry collection. Each card was numbered so I could not only see how many folks attended, but also do drawings for door-prizes: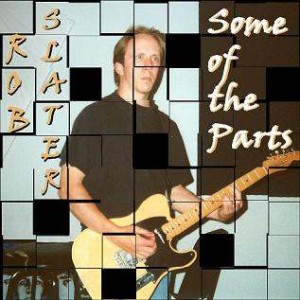 a copy of Some of the Parts, my CD of original music, and a copy of Blue Deer: Four Generations of Poetry, my mom's poetry book which includes poems by her father, me and some of my kids. Everything was going well, albeit a little harried. Parking near Village Books was practically non-existent. I parked in a no parking zone to unload boxes of books, guitar and other stuff. And then realized that I only had my school computer which did not have the VGA connector to hook up the presentation. Oops.
I played an extra song while folks were continuing to stream in and then started the show about five minutes late, but with most of the chairs filled. We ended up with at least 75 people as I gave out all 75 cards I had printed. We had a nice break midway through and most of the pizza and all of the cookies disappeared. After each of the readings I fielded questions including my favorite, "How old should you be to read this book?" I suggested that anyone under 15 probably should check it out with parents first. We sold 24 books and had a lovely, lovely evening ending in drinks with friends across the green at the Archer Ale House.
I followed the release party up with a Hometown Reading the first weekend of my spring break. [Immortalized in this Seussian poem] The reading took place at the Hoquiam Timberland Regional Library, a home away from home when I was growing up and the place where some forward thinking librarian got me hooked on Science Fiction. We did essentially the same format as the release party minus the pizza. This time we got the projector up and running the presentation. The crowd was smaller, and many called me, "Robbie," as they'd known me since childhood. We sold a few more books, had a pleasant weekend of thrift store shopping and ate at two of my favorite restaurant meals: Casa Mia Pizza's Special and The Canton's Egg rolls. I brought extra servings of both back home to Bellingham, after doing a reading at Harbor High School in Aberdeen. I also left copies for the other two local high school libraries and fundraisers. Not long after getting home with the food, my high school buddy, Derek Cook, principal of Harbor High contacted me to buy a classroom set of 30!
I realized the price I had quoted, once shipped would be nearly at cost. Thankfully, I managed to send them south with my niece, another former Grays Harborite, saving the shipping cost of 30 pounds of books.
Next Week: Part X—Finding Equilibrium, the agony and the ecstasy of new authorhood. Where our author goes to conventions and finds success and failure.
Write on…
* Adapted and expanded from the Foreword to Outward Bound: Science Fiction & Poetry, a collection of some of my published and unpublished works. Top