I'm starting The Desert Club [pronounced like Dessert, get it? Like Lizzie's Breakfast Club fixation.] Street Team for fans of The Deserted Lands Universe. Be the first person on your block to join the Desert Club.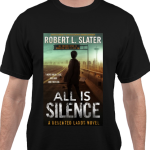 What do I get? A free ALL IS SILENCE T-Shirt [T-shirts for U.S. residents only. I have a special easier to mail prize for International members.] and loads of karma points.
What do I need to do? Wear the shirt in public. Help promote the Deserted Lands novels. Write reviews. Below I've got a checklist of things members can do to earn more cool swag!
There are FOUR LEVELS of membership. To go up a level, complete 11 of the 15 items below. I'll make a Fifth Level when folks get there!
Level I – Deserter
Level II – Scavenger
Level III – Recycler
Level IV – Collector
Want to join? Sign up for the newsletter in the orange box to the left and then send me an e-mail robertlslater1@gmail.com.
How do I do promote the Deserted Lands novels? Here are some ideas: (If you join and do at least 11 of the following actions, you win something cool! A checklist will come with the intro package.)
Wear the shirt in public. Take a picture of it at a viewpoint or a historic site. Or in front of something from the book!
Tell a friend about The Deserted Lands series. Tell dozens of friends. Help them sign up for my newsletter.
Write reviews and rate the books, especially on Amazon, but you can also post them on other ebook sites, GoodReads, Booklikes, your local library sites, etc.
Ask me questions on GoodReads, Facebook, Twitter and other social media.
Find a quote and add it to the list of quotes on GoodReads.
Create a meme from one of my quotes.
Donate a copy to a local school library. Bonus points if it's an alternative school or detention facility.
Follow me on Facebook, Twitter, Google+ and other social media.
Nominate a book or cover art for contests, book clubs, reading groups, etc. Vote if it's allowed for the contests.
Comment, forward and like blog posts, promos, reviews.
Write a blog post about one of the books.
Suggest songs for novel playlists.
Request the books from your local library. They will often buy a copy. Check out book I then request book II.
If you're in the Pacific Northwest see if your local bookstore would like to have me do a reading/signing.
Create your own Deserted Lands story. Make sure it fits the description of the world. If it uses characters I created you need my permission to publish it.
__________________ Your choice? Tell me about it.