Okay. Here's a random list of catch up things for January. 11 in November, 12 in December… Should be either 1 or 13 in January, no? Well, somewhere in between. Here we go.
0. [inserted last] Today is Lizzie's 14th birthday! Born 1/11/2002.
1. My friend and writing mentor Holly Lisle' s Memory of Fire (World Gates Series) is on a special price for Amazon Kindle = $0.99.
My review: Great opening to a cool universe. Pretty classic parallel universe with lots of nice twists. Strong females! Yeah. Be happy that they are all out so you don't have to wait read them all like I did! I can't find my paperbacks, so now I can have it on ebook! Holly Lisle writes books you can't put down. This is no exception. 
Currently #211 paid in the Kindle store! Check out her stuff at her websites: [Her Books & Blog] [Her Writing Classes]
2. First Convention booking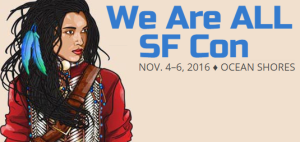 for 2016. WE ARE ALL SCIFI. NOV. 4–6, 2016 ♦ OCEAN SHORES.
Join Tor editor Beth Meacham, authors Jennifer Brozek, Nancy Kress, Jody Lynn Nye, Elizabeth Ann Scarborough, Raven Oak, Mike Resnick, David Gerrold, William F. Nolan, James E. Gunn, Angela Korra'ti and many, many more TBA for a fun con at the beach! Kid friendly!
Our other Guests of Honor include Celebrity Guest of Honor Drew Hobson (Grimm, voice actor, State of Decay & more), Games GoH Scott Hungerford, and musical guests Dara Korra'ti (Crime and the Forces of Evil) …and games, costumes, writing workshops, panels, dances…
See you there.
3. We now have the first two members of The Desert Club, a street team of Deserted Lands fans. Want to help? Want a FREE ALL IS SILENCE T-shirt? Click on the link.
4. Oh, and have I asked you to read Toils and Snares? Yes? A hundred times? Are you sure? Are you exaggerating. Only a little? Would you leave an honest review? You haven't finished it? It's on your Kindle? I'm needy? Did I tell you why? Did I mention that BookBub promos usually have over 20 reviews and I have 19? You'd tell me if I was that author, right? Oh, I wasn't but I am now? Yes, in fact, we did play the game of questions in Drama at school. I lost? That was a statement? Oh. You're right. Sorry.   
5. November's Elevensies sale sold 111 ebooks, at least that was my count until one final sale came through from November on iBooks. So, 112. Probably biggest month ever for number of sales, but adding in promotional costs made it a less than average month in income. Still a lot more people have read one or more of the Deserted Lands series. I'm planning on doing another sale near my birthday in February and the date of ALL IS SILENCE's print publication.
6. Some personal goings on you can check up on the non-writing blog. I'm working on lowering stress levels by finishing old projects, getting rid of shtuff, reading more, exercising more and rebooting my relationship with alcohol. Planning on blogging about these processes there, interspersed with non-alcoholic drink recipes and food to go along with them.
7. Working on building a library at Windward High School where I teach. So, moving books from my house thataway as well as donating a bunch of my books to worthy causes like Heinlein for Heroes, Books for troops, alternative high school and juvenile detention center libraries. If you would like to donate to my school library, let me know!