So, I decided that I should have a gallery of photos featuring All Is Silence in the world.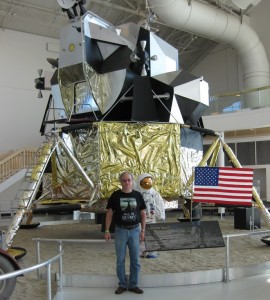 John Seltzer in front of a Lunar Lander in Evergreen Museum in McMinnville, OR.  One of my first non-related fans, John is also Heinlein Society Treasurer and part of the Heinlein for Heroes project distributing Science Fiction books to our veterans and service-folk.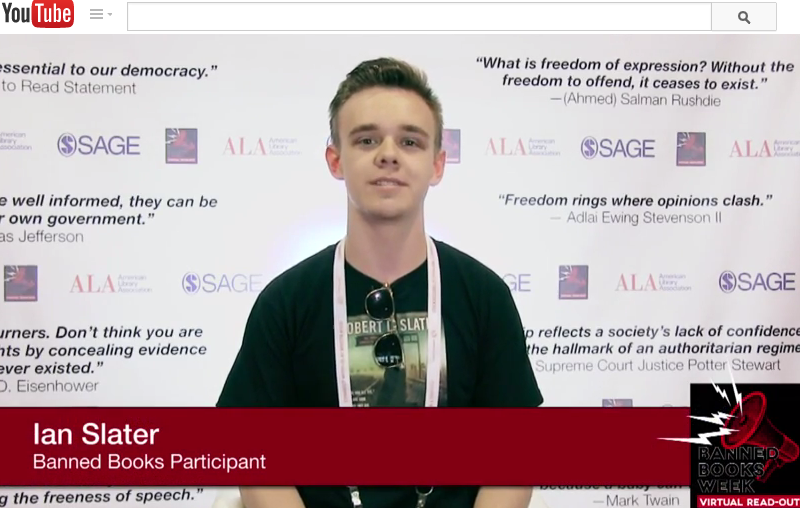 This is my son, Ian. reading from Perks of Being a Wallflower at ALA2014 in Las Vegas. You can hear me reading from Heinlein's Stranger in a Strange Land also in an All Is Silence T-shirt here.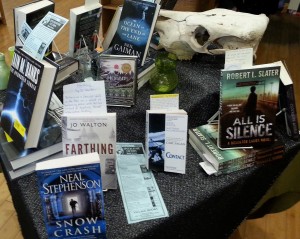 Here is All Is Silence with some of my greatest literary friends, even if I've only met one of them, Neal Stephenson, in person. Amazing company at Village Books in Bellingham.
On the left is my friend Betsy Childs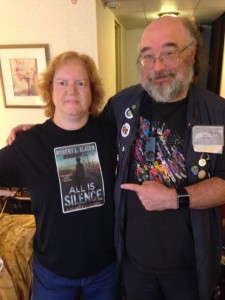 from the Heinlein Forum showing the colors with Don Sakers, SF author and Analog Reviewer. Here is his Analog Review of ALL IS SILENCE [scroll down the page.].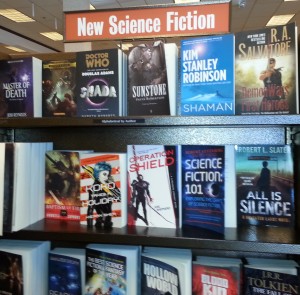 All Is Silence is in the New Science Fiction section at the local Barnes & Noble store. Many thanks to Cutter Kilgore. Pretty cool to be near Kim Stanley Robinson and J.R.R. Tolkein. You can request it at you local B&N store, too.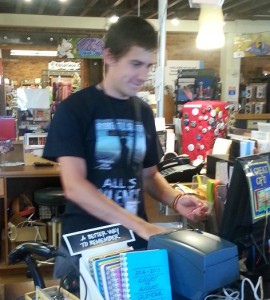 Brendan, my publishing advisor at Village Books, wearing an All Is Silence t-shirt. He's hard to catch standing still. If you're interested in small press publishing and live in Northwest Washington see Brendan. If you want a shirt go to the website store.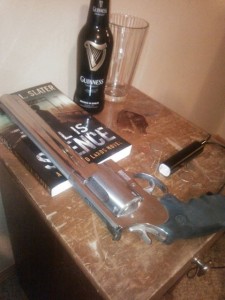 And here we have All Is Silence sharing a table with Guiness and 357 magnum. Maybe #1 with a bullet? [Since then it has hit #1 in Science Fiction on Wattpad. You can read the first 26 chapters for free.]