Now is almost yet! I've asked those of you who are regulars to these parts to wait to buy your ebook/book version of STRAIGHT INTO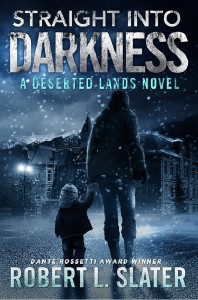 DARKNESS until the book goes live. This will give the book a boost if bunch of folks all buy it close together. This increases its visibility and hopefully more people will fall in love with the cover, realize it's book II and buy book one as well! So. It is live on VillageBooks.com  (Signed with $0.99 shipping and handling! If you want it personalized, leave a note in the Order comments box at the bottom.) and Amazon as a print book. It will be live as an ebook on September 8th on Amazon, Kobo, Nook, iBook, Smashwords and other ebooksellers!
So, please consider purchasing Straight Into Darkness and/or All Is Silence September 8th. If you have read All Is Silence and have not left a review on Amazon, you can do that here, or Kobo here, or nook here or GoodReads here or iBooks here!
Hope to see you all this year. If you live in the PNW and have a book store or library you're friends with that would host, I'll come to your town for a reading and signing!
Thanks,
Rob