A few random items at the last minute. I have a couple other blog posts in the works, but nothing is finished and one I wrote in January is already inaccurate. Sheesh… Time is flying. Oh, and Sunday is my 48th birthday. "Not to fifty….!" Fifty will be fine.
I had an absolute blast last month writing a guest story for Fourth Wall Friday, monthly blog-post that lets author or character walk through the fourth wall and interact. You can read my story, "You're the author, get your own damn coffee."
TOILS AND SNARES, A Deserted Lands Novella is available for pre-sale at Amazon. It's on presale until February 28th. If you want a sample before you buy, come on over and read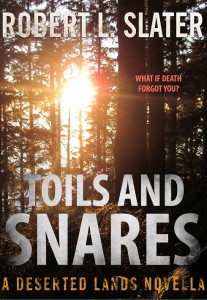 first four chapters of the second draft on Wattpad.
At nearly 40,000 words, it's a lot longer than the 22,000 word novelette I intended to write. But I love the story arc. It gives a bit more information on the pandemic than ALL IS SILENCE did. I'm calling it a parallelequel because it takes place essentially over the same time period as ALL IS SILENCE, but with completely different characters. The setting is strictly Pacific Northwest, going from Portland, Oregon up to Lake Quinault in Washington.
Most of the characters in TOILS AND SNARES, will appear in a novel that connects to characters in ALL IS SILENCE. Seriously folks, I have a dozen or so storylines set over the next hundred years or so in the Deserted Lands alternative universe!
This weekend at RADCON 6C in Pasco I will get to see Mike Shepherd Moscoe, Alma Alexander, G. David Nordley again and I finally get to meet two writers I 'met' this year: Jim Hines and Ksenia Anske. Plus a whole bunch of other folks who sound really cool.