Hey folks,
Thanks for all the support over the years. The last few months have been challenging. Even though I started off the year with a really strong 47,000+ words in January and February, I have a hit a wall and written only 21,000 words since then.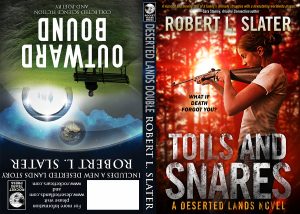 I'm rebooting, finishing edits on TOILS & SNARES for its release as a flip book with the Outward Bound Collection and One Tin Soldier on the flip side. We'll be having a release party for this PRINTED eBook on July 1st at Village Books with my fellow PNW SF author Jesikah Sundin. She has recently released book 2.5 in her Biodome Chronicles and will have that available along with her other books and all of my books, t-shirts, download cards, etc. So, SAVE THE DATE: July 1st, Village Books at 7pm.
I'm also planning on releasing a hardcover edition of Straight Into Darkness by the time NO MAN'S LAND comes out this fall. If you want to stay in the know, please sign up for my newsletter and get a free e-book.
Thanks again for coming along for the ride through the Deserted Lands.