In honor of the upcoming release of my PRINTED eBook collection, I am putting both TOILS AND SNARES (today) and the OUTWARD BOUND – Science Fiction & Poetry Collection (tomorrow) on sale for ONLY $0.99 each!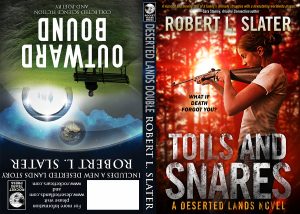 Here is the cover art for the print Ebook.
What? You don't know what a print ebook is? And why is OUTWARD BOUND upside down, Charlie Brown? Well…
These two titles have been available for years. But some folks really want a physical book they can hold in their hands. So I decided to give them two books in one. It will be a flip book–first you read TOILS AND SNARES and then flip the book over and read OUTWARD BOUND – Science Fiction & Poetry Collection. I'm also adding in the bonus short story, "One Tin Soldier." So you'll be able to get nearly all of my published science fiction in print for the first time.
I will be sent the PRINT ebook to the printers by the end of the month, but for now, you can buy them for much cheaper. $1.99 instead of the $9.99 plus shipping and handling you will pay to hold a copy in your hot little hands.
If you've already read either of the books above, please consider leaving a review. If you like them, you could even buy a copy for $0.99 on Amazon and leave a review. Verified purchase reviews hold more sway!
If you want a copy of the PRINTED EBOOK signed by the author it will still be several weeks before I will have them in my hands. Oh, and I will be doing a release party reading at VILLAGE BOOKS after I get them. Will post that info when I have solidified it.
Thanks for reading along.