"I hope you all die!" she said. And they did.
ALL IS SILENCE (2014)
Follow the story of Lizzie, a tough teenager trying to survive the end of the world. Her story begins in ALL IS SILENCE…
…and continues in the follow-up novel STRAIGHT INTO DARKNESS. (2015).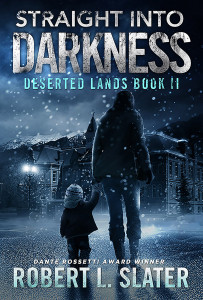 The third book NO MAN'S LAND will conclude Lizzie Goodin-Guerrero's story as a teenager. The Deserted Lands Universe, created by Bellingham, Washinton author Robert L. Slater, encompasses Lizzie's story as a young adult (YA) trilogy.
Additional short fiction pieces focus on other survivors of this particular apocalypse, such as the short novel and parallelequel,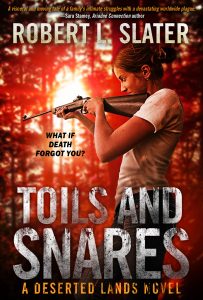 TOILS AND SNARES (February 2015) and the short short story Beginnings in the Outward Bound collection. There will be many more Deserted Lands stories and novels as the years go by in our universe and theirs.
For regular updates, please sign up for my semi-monthly newsletter at the top left of the page. If you're interested in helping spread the word about the Deserted Land's books, please join The Desert Club and get a FREE t-shirt [U.S. Residents, International: set of download cards].